You can bet they know Preem...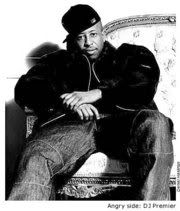 This might sound strange coming from a hardcore hip-hop head, but the news that Dj Premier is
working with Christina Aguilera
doesn't make me want to hurl furniture at the walls.
All I can say is props to Primo. After so many years of being the dopest producer hip-hop has seen (according to me), he deserves to ride the proverbial cash cow that is pop music.
I can only hope that it gets him his form back in terms of hip-hop as it's been a minute since I heard something by Primo that made me hit the rewind button.
Now that Gangstarr have parted ways I was hoping the sort of beats Guru would normally get to rhyme over would be passed to Nas, Jigga, AZ, Cormega, Ghost etc. No such luck.
Tags -
Hip Hop
,
Dj Premier
,
Christina Aguilera