Give you a final lesson in your final seconds....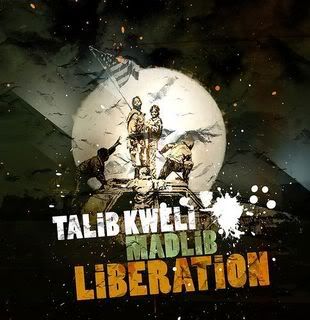 So it's about time I jumped back in and see how the water is. So last year was slow, whether you fucking admit it or not there wasn't much to get excited about.
This year though I've been picking up anything that looks half way decent on paper in the hope that I can find a gem. On paper, this to me was a gem. In reality, well it's not as dope as it could/should be but it offers a few heaters.
Kweli manages to divide the heads like few mcs can, either you love him and everything about him or he's an overrated, over-analytical wack mc who tries to put too many metaphors and syllables into each bar. I'm part of the former camp so Kweli + Madlib = dopeness. So I throw this on my Zen and play the shit out of it on the way home from work.
Initially Kweli sounds akward over Madlibs abstract beats and you cry out for Doom to step out of the shadows and show him how its done (Madvillany 2 anyone?) but there's no Doom. Now I've been a huge fan of Kweli since the Blackstar/Reflection Eternal days, and for me he killed it on Quality (not so much on Beautiful Struggle). For some reason Kweli tries to slow his flow down a bit too much on "The Show" and ends up sounding a bit akward. When Madlib gives him some tempo to play with though the old flow is back and Kweli comes correct.
Madlib shows exactly why he should be on everybodies list of dope producers with tracks from the downright soulful "Funny Money" to the heavy but somehow miniumlist sounding "Over The Counter".
The akward sounding Kweli is back on "Engine Runnin" (Ft Consequence, yes that Consequence) but then he comes straight back with "Over The Counter".
So what is the result? Well a decent EP based purely on Madlib's beautiful sandscapes and some dope verses from Kweli and a few average ones. I for one am looking forward to "Ear Drum" if he still has the sort of fire in him to deliver some of the dope verses that he drops on Liberation's high points.
And as aside, Kweli gets mad props for embracing the Internet and understanding that we're not all out to take money from artist's pockets.
Although the EP is (was) a free download, I have to run with something:

Talib Kweli & Madlib - Funny Money
Talib Kweli & Madlib - Over the Counter
Talib Kweli & Madlib - What Can I Do?
Tags:
Hip Hop
,
Talib Kweli
,
Madlib